You are here:
Psychological student counselling
Contact person: Florian Große Hülsewiesche
Psychological student counseling supports personal concerns in and outside the study context. All Witten/Herdecke University students can participate in individual counseling and a group offering.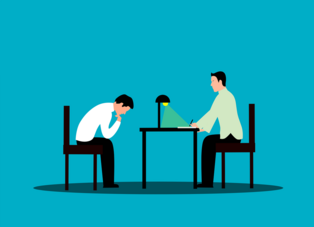 Appointment for individual consultation
Appointments for a personal consultation are made by appointment. Please write an e-mail with a short description of your request or call during office hours: 02302 / 926-7731.
Mr. Große Hülsewiesche can be reached by telephone at the following times (except public holidays):
| | | |
| --- | --- | --- |
| Tuesday | | 10:30 - 11:00 a.m. |
| Thursday | | 10:30 - 11:00 a.m. |
Overview of the offers at the UW/H for students
Psychological student counseling aims to support students in maintaining and strengthening their ability to study. It is possible to take part in both individual and group counseling sessions. This is a preventive, free offer of the UW/H. Neither the health insurance company nor lecturers find out about participation.
Possible concerns could be:
Loss of motivation
Exam nerves
procrastination
depressive and anxious moods
sexual orientation, etc.
During the telephone consultation hours, you can easily make an initial appointment.
The psychological counseling service at the UW/H tries to offer help and support to all UW/H students as promptly as possible. As a rule, an appointment can be found within two to three weeks.
In a fast-paced world constantly confronting new challenges, the ability to deal constructively with our emotions is central. For this reason, the participants in this group offer will highlight and train emotional competencies systematically and scientifically proven.

The group offer starts at the beginning of the semester and runs in five consecutive sessions of three hours each. The exact dates and times will be announced.
There is currently no English-language group, but this could be set up on request.
If you are interested or have any further questions, please get in touch with us by e-mail or telephone during office hours.