You are here:
Scholarships and grants at a glance
On this page you will find information about scholarships and grants.
There are many foundations and sponsorships that award scholarships. The award criteria are not always based on performance alone, but often also on social commitment or outstanding ideas and dedication to social interaction. Smaller foundations in particular sometimes have problems finding students for their scholarship programs because not enough students apply. On mystipendium.de one is helped to find out, which scholarship could fit to one. Here likewise the13 Begabtenförderungswerke are listed, which promote in Germany talentedand high performance students and Doktorand:innen .The height of the scholarship programs depends thereby on the height of the BAföGs.In contrast to BAföG,however, you donot have torepay the scholarship from the Begabtenförderungswerke. You can find more information about theBegabtenförderungswerke, as well as about various scholarship offers, on this page or at mystipendium.de.
For info
Some scholarships do not have a fixed letter of recommendation. Please feel free to contact professors and lecturers of your choice to obtain a letter of recommendation.
Overview of scholarships for the gifted
Information on funding opportunities abroad
For information on the various funding opportunities abroad click here
Germany Scholarship
Witten/Herdecke University has awarded several Germany Scholarships to students each year since 2011. The scholarships are financed by public and private funds. Scholarship recipients receive 300 euros per month for a total of two semesters. An application for further funding is possible after the end of a scholarship.
Both first-year students and students in higher semesters who demonstrate special potential and above-average performance are eligible for funding. In addition, social commitment, the willingness to take on responsibility, or special personal circumstances resulting, for example, from the individual's social background play a role.
Further information can be found on our homepage
Contact persons for the Deutschlandstipendium
Contact for students
Martina Knop
Alfred-Herrhausen-Straße 44
58448 Witten
FEZ-E.080
Contact for faculty and staff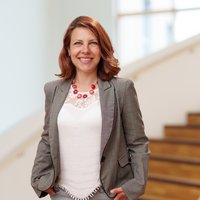 M.A. Katharina Bruder
Universitätsförderung
Projektmanagement

Alfred-Herrhausen-Straße 44
58448 Witten
FEZ-E.080