You are here:
uwhFiles (External Drive Access)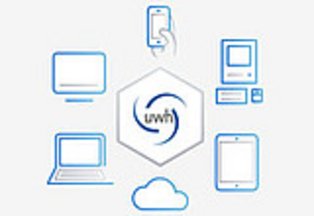 If you occasionally need to access familiar network drives from outside the university, e.g. at conferences or at home outside normal office hours, then theMicro Focus Filr(Filr) software could be the solution for you. However, this software can also be used as a secure DropBox replacement (synchronization, offline access), or to share UWH data with temporary staff or external cooperation partners. The following guide covers only the most important features. Please refer to the documentation linked in the text or contact us if you have questions about additional features.
All instructions from the manufacturer can be foundhere.
Instruction
The licences for Filr are not free of charge, and the system causes quite a significant load on our servers.
Therefore, please check first whether you really need Filr:
If you already have a teleworkstation ("home office"), you can already access the network drives T, H, etc. externally via the Citrix Receiver. So you do not need Filr for this application.
If an external cooperation partner has given you DropBox or similar software as a technical solution for data exchange, you will most likely not be able to exchange it for Filr, even if Filr would be the better solution (security-wise).
If you occasionally need to send files to external parties that are too large for an e-mail attachment, please use the free

GigaMove

for this purpose.
Otherwise, please contact us at BIT-Support@spam protectuni-wh.de and tell us briefly what you would like to use Filr for. This will give us a better idea of which functions are particularly relevant to UWH members and what alternative technical solutions we might be able to offer you. If you would like to use a UWH PC, please also let us know the number of your PC (e.g. DT-12345). Thank you!
To log in to Filr, in addition to your UWH username and password, you will also need a one-time PIN that differs each time you log in, which can be provided either by your smartphone or a hardware token (see below). Please inform us if you cannot use a smartphone!
You have received confirmation from the BIT that you can use uwhFiles? If not, please contact us first (see above).
In order to better secure access to the partly confidential data of our file server against unauthorised access, a one-time PIN is required in addition to the known UW/H user name and password. This PIN changes continuously and is supplied to you by an app on your smartphone when you log in.
Please follow our instructions to set up this login procedure using the smartphone app:
Setting up the login procedure
After setting up the registration procedure (see above), please log in here on a test basis using your known UWH access data:
You will then receive another login window in which please enter the six-digit code that the Google Authenticator app on your smartphone (or your hardware token) is showing you at this moment. Once you have successfully logged in, the Filr homepage will appear.
These two steps are necessary every time you log in to the web interface (see above), with the Filr Desktop App or with a SmartPhone App.
Anmeldung mit Benutzername / Passwort und PIN ("Zwei-Faktor-Authentifizierung")

Login with user name / password and PIN ("two-factor authentication")

Example views
Left: You are offline, Middle: Folder is available offline, Right: File has been edited offline and has not yet been written back to the server.