You are here:

Ways to the UW/H: Offers, infrastructure and information
Whether it's regular travel to campus, business trips, or getting to events: The way we organize our mobility influences the climate as well as our quality of life. With its mobility infrastructure and offers, the UW/H would like to promote an uncomplicated use of more climate-friendly means of transport. We have summarized these offers, as well as other tips and tricks around sustainable mobility, on the following page.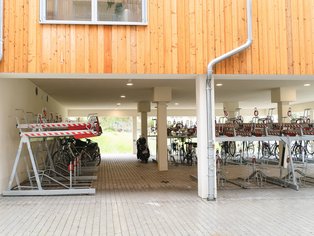 ...with the bicycle
The UW/H can be easily reached by bicycle from Witten's city center and the train station in two to three kilometers.
Currently, Pferdebachstraße is still being renovated. We ask all cyclists coming from the Witten city center not to take Pferdebachstraße in the opposite direction! For bicycle traffic, the UW/H recommends the safe alternative via the street "Ledderken". Here is significantly less traffic and the car traffic is slower. Coming from the city center, this route is currently also signposted as a bicycle detour.
An der UW/H gibt es im Neubau ein überdachtes "Fahrradparkhaus" mit 200 Stellplätzen. Weitere 200 überdachte und doppelstöckige Fahrradstellplätze befinden sich am neuen Campusplatz. Außerdem gibt es an der Alfred-Herrhausen Straße Fahrradstellplätze mit Bügeln an fünf ehemaligen "Parktaschen" sowie weitere Fahrradständer rund um das Hauptgebäude.
Im Holzubau befinden sich direkt neben dem Fahrradparkhaus Umkleiden, Duschen und Spinde. Damit können sich alle Fahrradfahrenden bei Bedarf vor einem Uni- oder Arbeitstag frisch machen.
In der Radstation am Hbf kann das Fahrrad sicher und trocken abgestellt werden. Studierende und Mitarbeitende der UW/H erhalten 20 % Rabatt auf einen Dauerstellplatz am Hbf. Damit kostet das Jahresticket 80,00 €, anstatt der üblichen 100,00 €. Um den Rabatt in Anspruch zu nehmen, reicht die Vorlage eines Nachweises (wie beispielsweise Studierendenausweis) in der Radstation aus.
Mitarbeiterinnen und Mitarbeiter können vom Bikeleasing Gebrauch machen, bei dem sie sich ihr (elektrisches) Wunschfahrrad aussuchen können. Die Dienstfahrräder sind kostenfrei versichert und auch privat zu nutzen.
...by bus and train
There is a direct connection to the S-Bahn at the Stockumer Straße location (station: Witten-Annen Nord). For the route between UW/H and the main train station, both a bicycle and the bus are suitable. Bus line 371 runs every 15 minutes to important junctions such as the campus, Witten main station and Witten city center.
After 20:00 (on Saturdays after 18:00), the line 371 unfortunately so far only runs hourly to the city center (always at XX:28). Alternatively, the bus line 375 always departs at XX:53 (Saturdays at XX:57) at the bus stop "Dirschauer Straße", which is about 10 minutes walk from the campus on Dortmunder Straße (from Dirschauer Straße under the tracks, see map section).
Alle Mitarbeitende haben die Möglichkeit, ein VRR-Jobticket zu erwerben. Für Mitarbeitende der UW/H gibt es insgesamt 34 € Nachlass auf den Preis der Standard-Abos. Weitere Informationen zum Jobticket gibt es auf der folgenden Seite.
Aktuell bietet die BOGESTRA eine Abo-Aktion an, die es Abonent:innen ermöglicht, am Wochenende mit ihrem Jobticket NRW-weit zu fahren sowie eine weitere Person und/oder Fahrräder mitzunehmen. Für die genauen Details lohnt sich ein Blick auf die Website der BOGESTRA.
Studierende können mit dem Semesterticket rund um die Uhr in den meisten öffentlichen Verkehrsmitteln im NRW-Verbundraum fahren. Weitere Informationen zum Semesterticket gibt es auf der Seite vom Hochschulwerk.
Sollten Busse und Bahnen enorme Verspätungen aufweisen (über 20min), können Betroffene die Mobilitätsgarantie NRW in Anspruch nehmen. Diese ermöglicht, dass Bahn- und Busfahrenden die Kosten des alternativ gewählten Verkehrsmittels (wie beispielsweise IC, ICE oder Taxi) unter bestimmten Bedingungen erstattet werden. Es ist empfehlenswert, die Verspätung entsprechend zu dokumentieren (beispielsweise via Screenshot).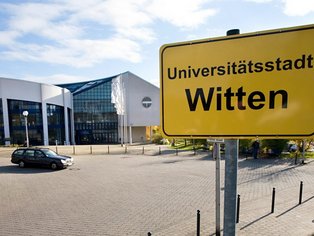 ...with the car
The parking spaces along Alfred-Herrhausen-Str. are subject to a charge (3 € per hour), although there are free parking spaces for short-term parkers (max. 15 minutes parking time).
In the parking garage located on Alfred-Herrhausen-Str., the university has rented long-term parking spaces that are offered at reduced rates. The rented parking spaces at Gleiwitzer Straße 5 are also subject to parking garage fees.
Free parking is available along Pferdebachstraße all the way to the highway. Here it is still possible to park near the UW/H without paying a fee. The walk takes about 10 minutes.
Die UW/H hat im Parkhaus Dauerparkplätze angebietet, die zu vergünstigten Konditionen angeboten werden. Nutzungsentgelte werden aus Gründen der Solidarität in Abhängigkeit von der Gehaltshöhe und dem Stellenumfang der Mitarbeitenden erhoben. Informationen zum Tarifmodell für Mitarbeitende finden sie unter diesem Link.
Aktuell gibt es zwei Ladestationen für Elektroautos auf der Alfred-Herrhausen-Straße. Perspektivisch soll es weitere Ladepunkte im Parkhaus geben. Eine Übersicht der Ladestationen in Witten gibt es auf der Seite der Stadtwerke Witten.
Entlang der Alfred-Herrhausen-Straße gibt es zehn barrierefreie Parkplätze (Schwerbehindertenparkplätze). Zudem hält die UW/H sowohl am Neubau als auch am Modulbau je zwei eigene barrierefreie Stellplätze vor.