You are here:
Video Conference via Zoom

The UW/H has concluded a campus agreement with Zoom.
This allows all faculty, all students, and authorized staff to hold Zoom meetings with up to 300 participants for an unlimited time.
The authorizations are managed centrally by the BIT.
Who is authorized?
All enrolled students at UW/H are automatically entitled to use Zoom in the licensed version.
For employees applies:
All instructors with teaching assignments and all UW/H employees who support teaching are entitled. This includes the entire administration, including e.g. the Fibu, the dean's offices and secretariats.
Not eligible are, for example, attending physicians who are not involved in teaching in the dental clinic or outpatient clinics.
Medical or dental assistants who work exclusively in treatment and not in teaching are not eligible.
What do I need to do?
Zoom licenses have already been unlocked for students, faculty, and administrative, nursing, business, and stufu staff. These groups of people can log in directly.
Employees from dentistry, human medicine and psychology who need a Zoom license and can be assigned to teaching, please contact the BIT by e-mail to request access: bit-support@uni-wh.de.
What happens to existing pro accounts?
Employees who already have a purchasable license should contact BIT to have it transferred to the Education license.
If you have any questions, please contact BIT at bit-support@spam protectuni-wh.de.
How do I sign up for Zoom?
SSO: Login with the UW/H identifier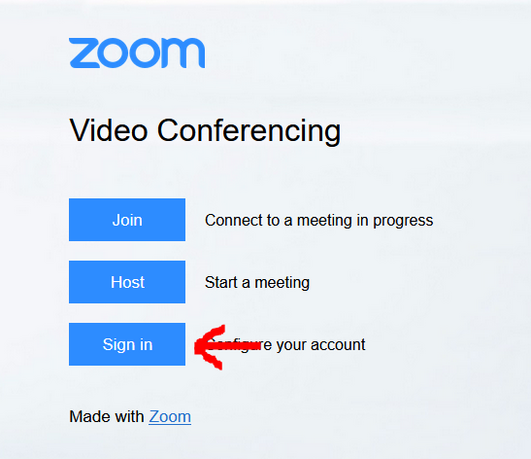 To sign up for this licence, go to https://uni-wh-de.zoom.us and select "Sign in".
(Even if you already have another Zoom account (Basic or Business) with your UW/H email address, you can sign up and log in here).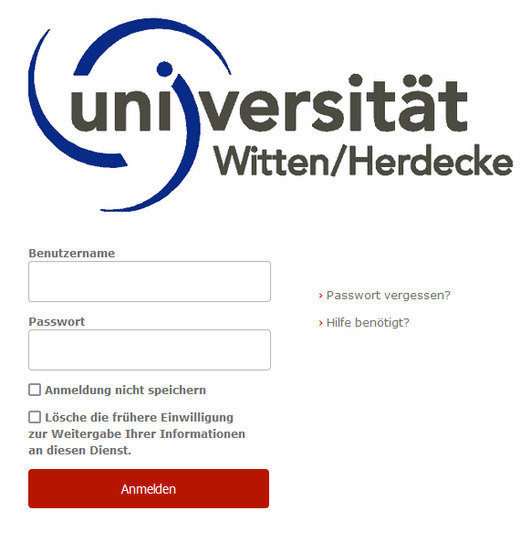 You will now be redirected to the IdP of Witten/Herdecke University, where you can log in with the usual login data.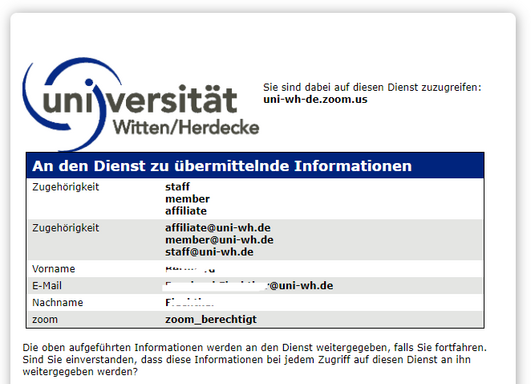 The display now shows which data will be passed on to Zoom.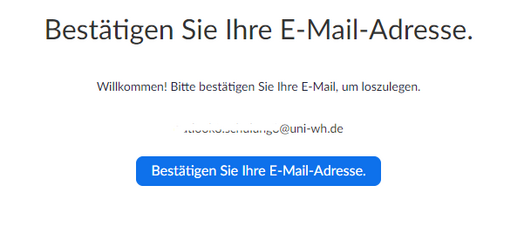 The display now shows which data will be passed on to Zoom.

The following message now appears:
Case 1: You did not have an account with Zoom before.

You will now see the following mail in your mailbox: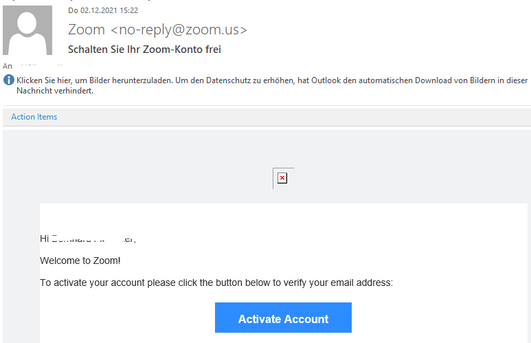 Click on "Activate Account" to activate your account.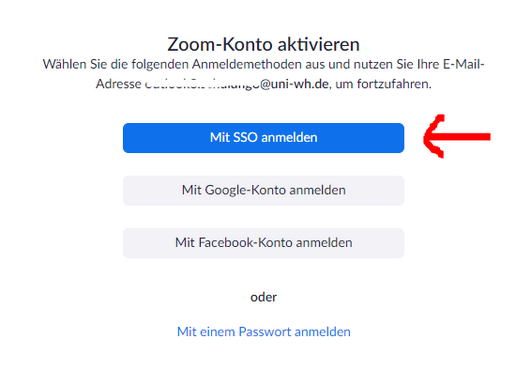 The following window will now appear in your browser:
2nd case: you already have an account with Zoom
In this case, the email looks different: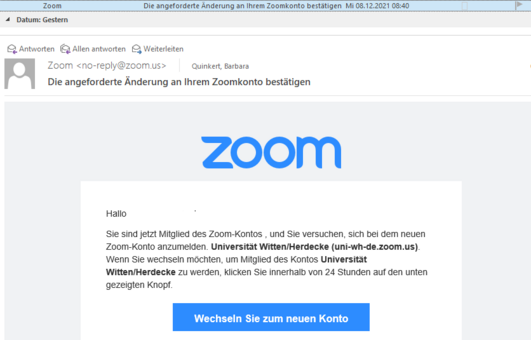 Please click on "Switch to new account".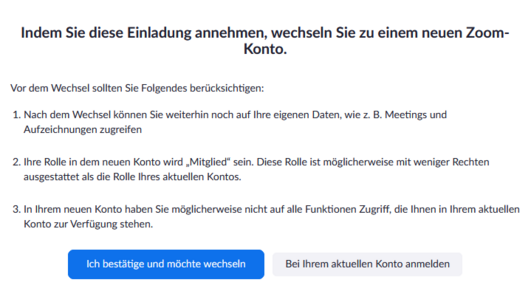 Click here: "I confirm and would like to switch".

The following text appears in the browser: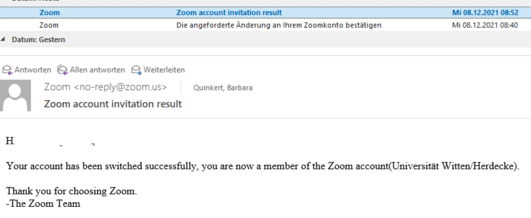 A short time later you will receive the following e-mail:
You can now either reload the window in the browser or click again on the link "Switch to new account" in the first mail.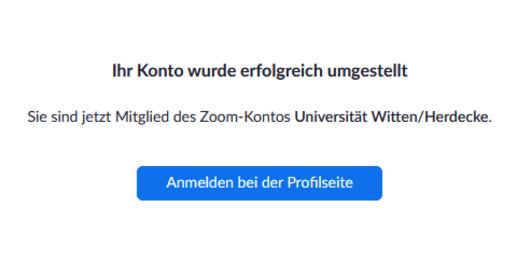 The message appears in the browser:
Please click here on "Log in to the profile page".
Notice:
You will not need to perform these steps again the next time you use Zoom but will be logged in directly.
Please use the following link to log in:https://uni-wh-de.zoom.us/
How do I see what I am eligible for?
After you have logged in to Zoom, you can see the licence provided for you under "Profile".
Licensed means that you can use the UW/H licence and are not subject to the time limit of 40 minutes.
How do I use the Zoom Desktop Client?